As Africa's 2nd Female President Joyce Banda Takes Office, New Hopes for Malawi
Less than a week ago, Joyce Banda, vice-president of Malawi, was sworn in as the country's new president following the death of President Bingu wa Mutharika. Mutharika had been in office since 2004 and was successful re-elected in 2009. However, his popularity plummeted as he failed to improve the country's economic situation and claims of human rights violations and bad governance emerged. In recent months, opposition urged him to step down and hold an election referendum, which he refused. When he died on 5 April of a heart failure, it took the government two days to announce his death, prompting speculations and fears of dispute over his succession. On 7 April, his death was confirmed and his Vice-President Joyce Banda was sworn in as his successor.

However, their relationship was not cloudless. In 2010, Banda came into direct opposition with Mutharika as he tried to groom his own brother, Peter, for his succession. Banda left the governing party in protest and formed her own opposition party, called the People's Party. However, as the office of Vice-President is an elected and constitutional one, she remained in her position, despite her vocal opposition to the President.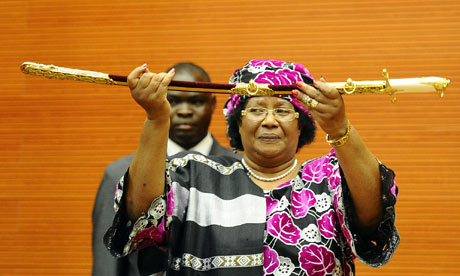 Challenges ahead
As Banda didn't fear raising her voice and oppose the then-President, she gained credit as a progressive figure, which is expected to embody the time of change ahead. However, as she was not elected into her current position, it is crucial that she establishes her legitimacy and gathers the necessary support from government officials and the general population, until the next scheduled elections in 2014. Her actions and engagements in the coming months will therefore be central to her image.
Malawi remains one of the poorest country in the world, with 74% of the population living on less than 1$ a day and relying heavily on agricultural revenues. The economy of Malawi is dependent on the support of donor countries, but numerous donors halted their funding in response to reports of bad governance and human rights violations. Banda's work can hopefully reverse the decision of donor countries to withdraw their funding, as external financial assistance is essential in supporting Malawi in its fight against poverty and hunger.
As President, Banda must focus her efforts on regaining the confidence of donors, and if she succeeds, it will pass a strong message to other African nations that donor countries will prioritize funding to African nations who respect good governance, human rights and freedom of speech, religion and political opinions for example.
Banda as a long-time champion of women's rights
As the daughter of a police officer, who worked her way up the political ladder, Banda often speaks about former fellow students who had to drop out of school because they lacked funds to continue. Those women married early, had several children and were unable to access higher-level positions, due to lack of education. Hence, they were unable to leave the circle of poverty. Banda has repeatedly prioritized policies, which will help those women out of poverty, by promoting for instance education and loans to women.
Banda's success but also her outspokenness and strong character are traits which constitutes important models for numerous African women. Most importantly, she is well educated and her name has not been stained with claims of corruption. Throughout her work, she has continuously focused on priorities, which include women, such as promoting education and combatting poverty. She is also a model in terms of making other women believe that they can accede to higher-level of decision-making positions.
Furthermore, the appointment of Banda will also shed a new light on several objectives of the African Women's Decade. Over 65% of Malawi's population is dependent on agriculture, which is one of the ten themes of the Decade. More centrally, fighting poverty and promoting economic empowerment of women should also continue to be at the center of Banda's efforts. Recently, she won a community award for her combat to end hunger and as such, her efforts do not only benefit women, but the entire community.
Women in the center of development efforts
The federal election in May 2009 in Malawi saw the proportion of female Members of Parliament rise from 14 to 22% but they still remain underrepresented in decision-making positions and are disproportionately affected by poverty. Current constraints to women's political participation in Africa and especially in Malawi include limited income and education as well as gender stereotypes and a traditional view of the woman as staying at home.
However, research has repeatedly shown that women are more likely than men to invest their gains in areas that alleviate poverty such as health, education or business development. As such, it is crucial that Banda and her governmental team continue to focus on policies, which assist women and empower them with skills to control their own future. Make Every Woman Count will continue to monitor closely the political participation of women in Africa and especially in Southern Africa and Malawi. It is a strong positive message that two women are now Heads of States in Africa and efforts must be continued to guarantee higher participation of women not only in elections, but also in parliament and in other decision-making positions.
While education and economic empowerment are key to end poverty and to empower women, good governance and a female President are central factors in ensuring that such themes remain high on the political agenda.

By Vibeke B. Thomsen